#6 Legit Ways to Make Money Online in Uganda in 2023 – Updated
Contributed Ads November 10, 2021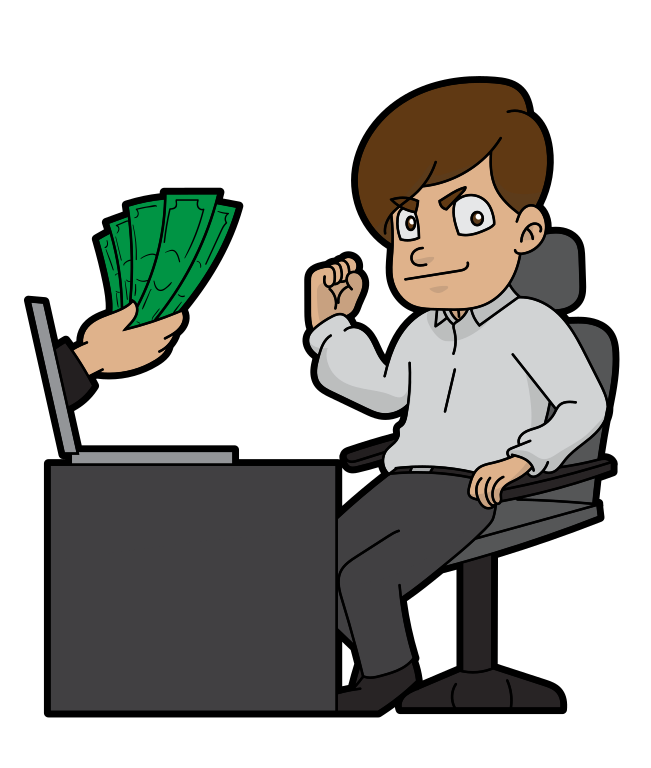 The reasons you are looking for Legit ways to make money online in Uganda may vary but, this is usually certain to be among them – A lot of useless content on this topic exists on the internet.
And you are not ready to spend your valuable time on such fluff. So this article is going to be concise and straight to the point.
Whether you intend to start your own online business or need ways to make extra cash online to meet your demanding needs, you are in the right place.
So, how can you make money online in Uganda in this post-Covid-19 era?
Here is a quick list of 6 legit ways to make money online in Uganda;
Work for companies online
Earn from sending emails
Turn your passion into cash
Sell your voice recordings.
Earn from your thoughts and ideas
Sell your unwanted stuff to others
Without any further ado let's look at each of the above ways in detail.
Do you have valuable skills? Some companies could hire you to work for them online. All you need is a computer and a reliable internet connection.
Here are companies that hire people to work for them online from Uganda;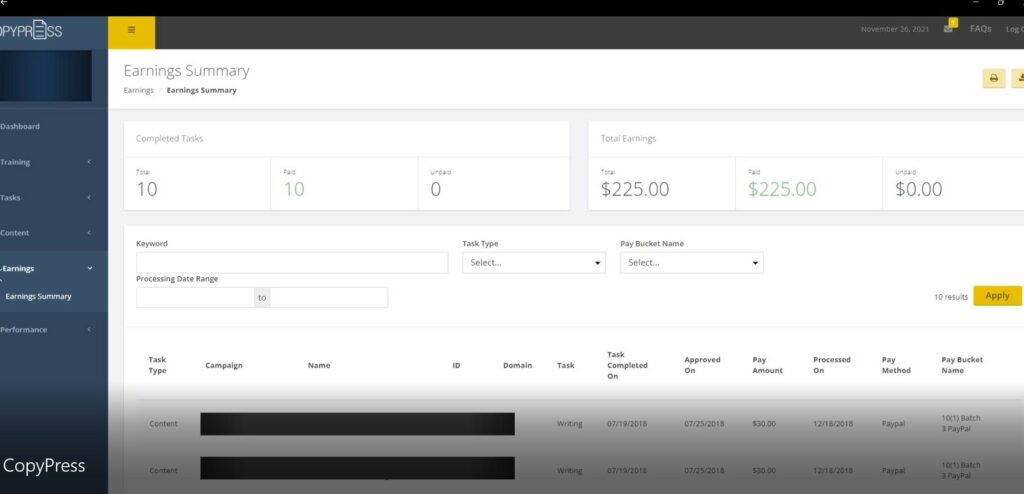 Copy Press is a content management platform that helps online businesses create engaging marketing content for their websites.
Work at Copy Press ranges from article writing to graphics design to video editing, web development, and more. All you have to do is register on their contractor page. As per the time of writing this article, Copy Press is looking for writers on different sports topics and editors.
Clicking on the Register button takes you to another page where you choose the field you want to join. This will prompt you to take a 30minutes test.
A typical Copy Press test can consist of English grammar questions plus a real test to see whether you can deliver up to the expectations of Copy Press's clients.
A writing test, for example, can involve writing 1 or 2 articles for one of their clients, which they can give you up to two weeks to finish and submit ( In case you aren't able to submit within that time, a prior communication with the project manager they assigned to your work is vital). Of course, they will pay you for this real test if you deliver great copies that their client approves.
And what if you are not good at writing? Do not worry! There are a couple of free online tools that can help you write like a pro.
Just Google free online writing tools, and you will get the help you need to get started with article writing.
So if you want to make some extra cash writing articles for some of the renowned brands in the world, Copy Press, Inc is worth giving a try.
By the way, one thing I found helpful is first researching Copy Press before taking the test; some of the things you could research beforehand are; what writing style they use, how they structure their articles, and so on.
Quite scary? Don't worry! Here is a link to Copy Press' secret knowledge base that they created for their contractors that can help you with all the information you need to prepare you for their test.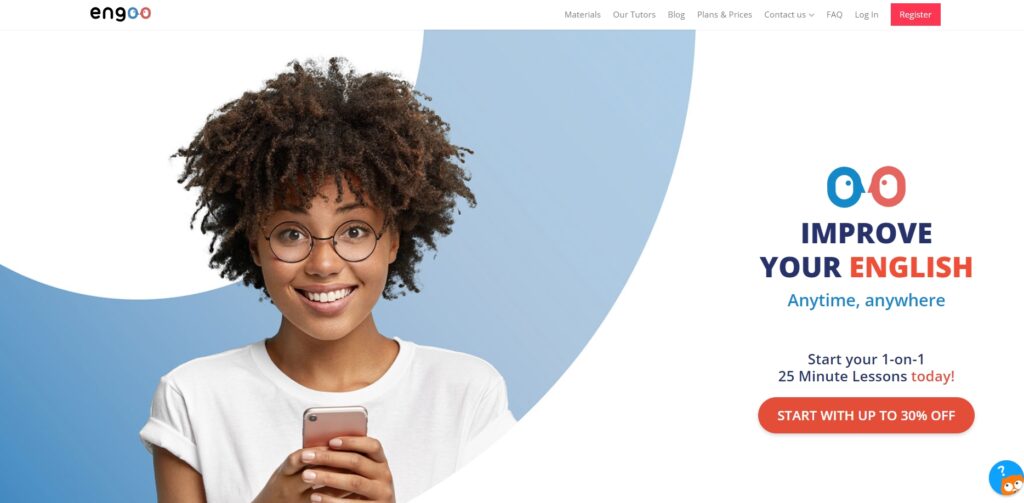 Engoo ( formerly known as Bibo Global) is an online tutoring company that teaches English to people in over 70 countries worldwide.
Tutors can choose their schedule as to when they are available for work. Every lesson is about 25minutes, and you get from £2.5 to £10 on completion of each tutoring session.
Tutoring is via Skype so, make sure you have stable internet, a good camera, and a noise-canceling headset for your student to enjoy the session.
A typical Engoo application process can consist of general knowledge about their platform and English comprehension.
It might also conclude by performing a live demo with one of their community managers to make sure that you'll deliver a wonderful teaching experience to their students.
But don't worry about the demo; They have a platform that can teach you before applying. Also, there are many YouTube tutorials that explain everything you might need before taking the test.
The tutorial that gave me a lot of insight before applying is by Jha Oliveros. Though it's a mix of English and Tagalog(a language in the Philippines), you can still learn a lot from that video alone.
So if you have got something for tutoring, you could check out their onboarding page to try it out.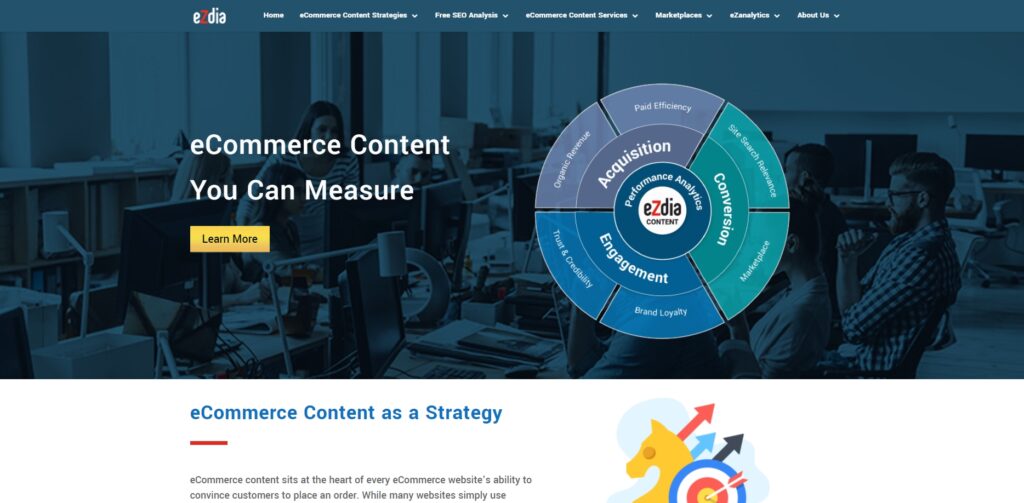 Like Copy Press, Ezdia creates online content for other businesses only that their focus is on online stores like Walmart, Alibaba, Amazon, etc.
Their content revolves around product descriptions and sales-driven product pages. So, if you are good at convincing others, this could be your thing.
And if you are not good at writing compelling descriptions, you could use the free online tools I mentioned above. They can also help you write irresistible product descriptions.
Ezdia pays via Paypal for every finished task. Wait, isn't this out of your reach since Ugandans can't receive money via Paypal? Not at all! There are some ways you can work around and get a verified Paypal account even if you are Ugandan. ( Just let us know via support so we can write a step-by-step article on that).
Do you feel like Ezdia is worth giving a try? Hop over to their onboarding page and give them a shot.
Do you have a good comprehension of the German language? If you do, you can write website articles for Content.de and get paid for each one you write.
Content.de is a content platform where online businesses post jobs for freelancers like you to can fill up for them, and once the content you've created is up to the client's expectation, their clients pay you for your hard work.
The topics you can write for can range from lifestyle, to E-commerce, Search Engine Optimization, and more.
The good thing is that since Content.de's target workers are those who are fluent in the German language, it's less likely that there would be stiff competition for the work compared to other platforms that target English writers.
The fact that they allow writers from all over the world to write for them, it's a good indication that they would take you in if you have got what it takes. Why not give them a shot on their worker's enrollment page?
2. Earn from Sending Emails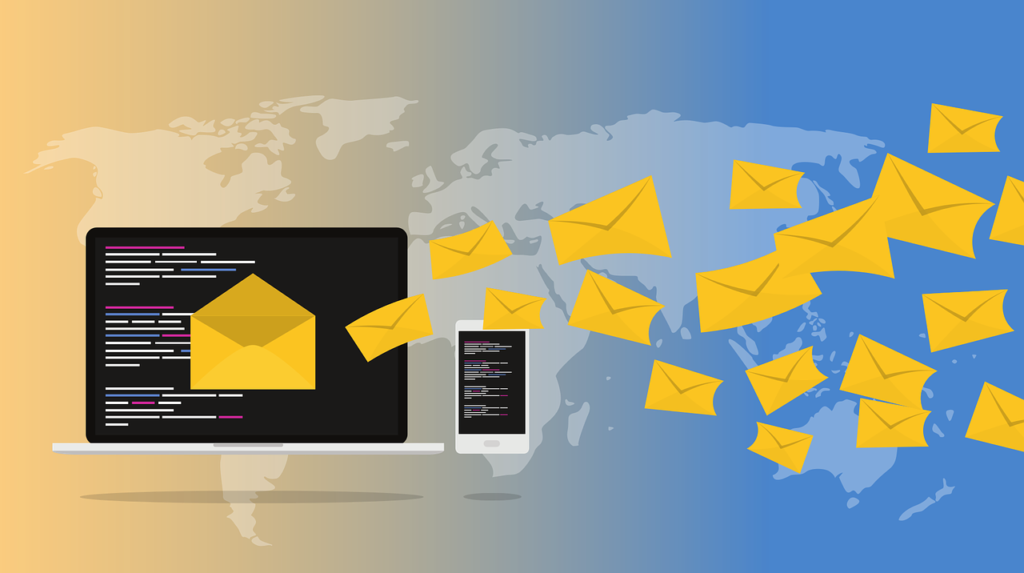 Undoubtedly you have an email, and you are already receiving regular emails from an individual or business that you subscribed to receive occasional emails from them.
Did you know that if you went ahead and bought the item that the writer recommended to you, they end up getting a slice from the sale?
In a sense, they are earning online from sending emails. It's called email marketing. True, you might not buy the item today but, someone else whom that email touched did.
All you have to do is build an email list to which you can start sending occasional emails. If that list grows, it becomes your audience to which you can sell anything. With it, you could reach out to established businesses so they can give you offers that you can share with your audience.
The good thing about an email list is, that it's yours forever, you can't rely on other platforms to monetize it so, it's sustainable. You're also the one to determine the price for whoever wants to market to them. Only be sure not to sell that list to third-party marketers – once your audience realizes it, it could be the end of your hard work.
3. Turn Your Passion into Cash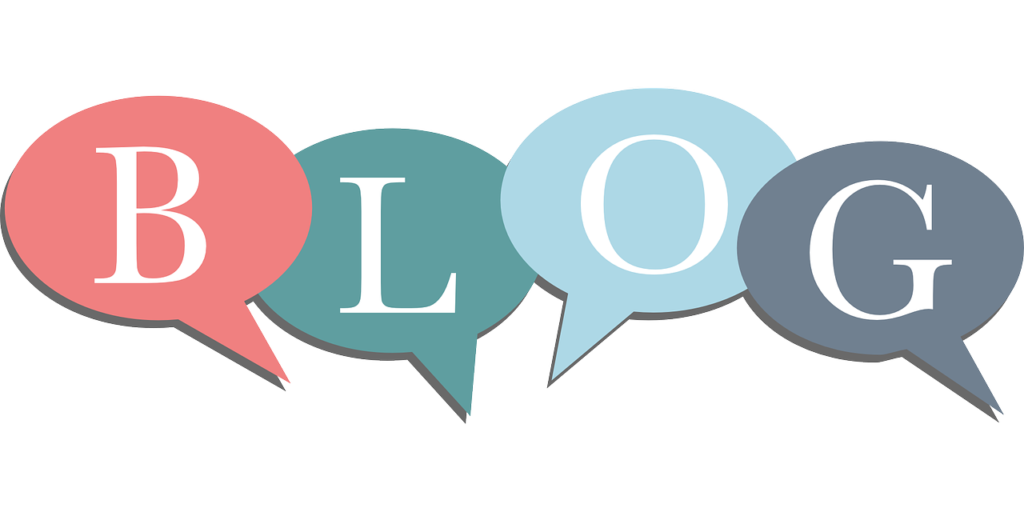 Is there anything you are good at that you enjoy doing? It could be any hobby or anything else that you know very well and love doing.
I, for example, love writing; I am so passionate about telling others about things and so on. I was able to turn that into cash through blogging.
How? People are always looking for things on the internet. Take, for example, yourself; you wanted to find out legit ways to make money online in Uganda.
Where did you go to find answers? Online. All I had to do was give the most reasonable explanation that even Google felt compelled to recommend to you.
So how do I earn? Simple – Traffic. With many people like you coming to read this article, I create an audience that companies like Google, MTN, Coca-Cola, Jumia, and many others around the world would love to advertise to.
So they pay me to rent them some space on this page like the different ads you might be already seeing besides this article! True, you aren't giving me any money but, your being here allows me to make money from other companies that need your audience.
You too can start a blog of your own where you can talk about things that others might be looking for online. If you would want to start blogging, be the first to join our become your own boss course that we are soon launching. In that course, we will teach you everything you need to start a successful blog of your own.
4. Sell Your Voice Recordings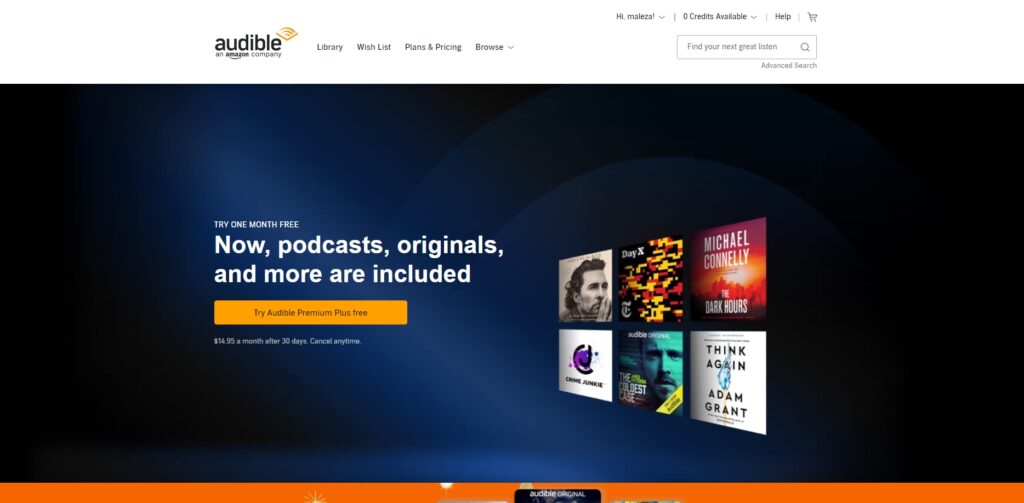 Do you have a great voice and are you good at storytelling or arranging your thoughts into an engaging audio guidebook? You can record and sell them on Audible!
Audible is the leading platform that allows people like you to convert your skills into audiobooks that millions would love to listen to while driving, working out, or doing other things.
You might be thinking: "But my voice isn't as well-coming as those I hear on Audible." Don't worry; there is a couple of Text-to-Speech online tools that you could use.
One such software that I would recommend is Balabolka I recommend it because it has an online tools option that has quite a variety of real-human voices to choose and all of them are free of charge.
It also allows you to save your converted audio file into several options like wav, mp3, and many other formats.
What if you don't know how to write a great script, or you feel that the voice-overs you created with Balabolka aren't engaging enough? If you have some 60k, you could outsource the project to an expert on Fiverr who will do it for you in less than a week!
5. Earn from Your Thoughts and Ideas

Are you great at framing up your ideas into an engaging video that others would love to watch? You can make your own YouTube channel and aim at growing your audience.
Once your channel reaches 1,000 subscribers and has 4,000 hours of watch time within a year, it could be eligible to join the YouTube partner program.
If YouTube accepts you in the program, you start earning money from ads that YouTube embeds within your video.
YouTube also recently started another opportunity that you could take advantage of – YouTube shorts. These are short videos that you can make with your smartphone within the youtube App.
YouTube has allocated a fund for Shorts by paying creators who meet its criteria. Creators could make somewhere from $100 to $10,000. Creators who qualify are paid according to views, engagement, and watch time.
Why not be among the early birds by creating your own YouTube channel? All you need is a smartphone and also have the YouTube App installed so you can start growing your audience.
6. Selling Your Unwanted Stuff to Others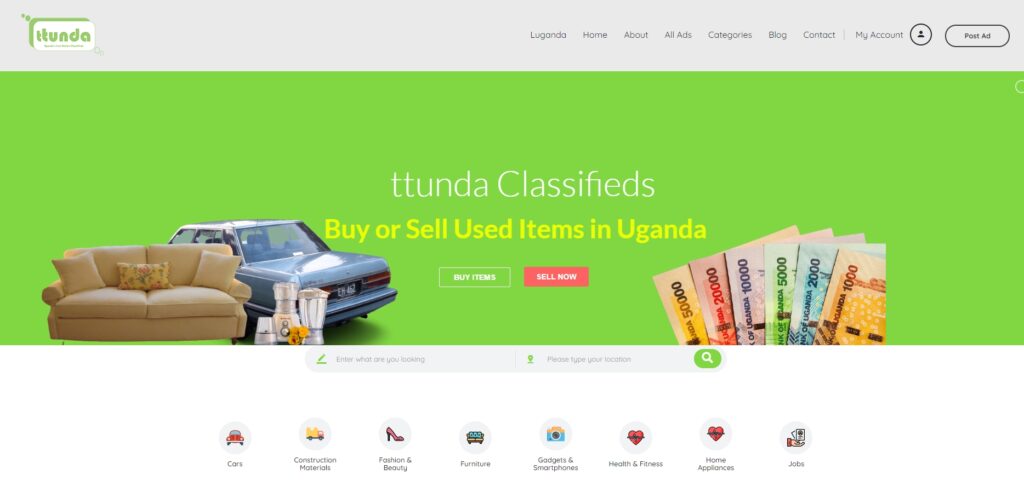 Do you have items that you no longer use that are valuable enough to get you some extra cash at short notice? Why don't you use already established platforms like this one and other online classifieds to sell them?
Another strategy you could use to make money online through classifieds in Uganda is by imitating Kampala hawkers. How? Talk to store owners that have cool items, and partner with them so you can take high-quality photos that you can post on classifieds.
Of course, you have to include your contact as the owner and set a price that is much higher than the seller's; once someone is interested, you simply go and get the item and deliver it to the interested buyer and keep the commission.
What is good about most of these platforms is that their services are 100% free. For example, our classified ads platform here is completely free! You can create an account now and start advertising your items.
These are some of the ways that I am using to make some extra cash to cover a few expenses here or there; some of them are quick fixes to help you make some extra income and others have the potential of changing your life forever if you do them the right way. Do you want to know how? Join our waiting list for the course we are soon launching; we will teach you how for one full year – free of charge! And by the end, you won't regret it.
What do you think? Are there other ways that you've tried out that are working for you? Please share them in the comment section below.