A List of 18 Free Classifieds in Uganda – Advertise in Uganda 2021
Jeff M January 1, 2021 16 Comments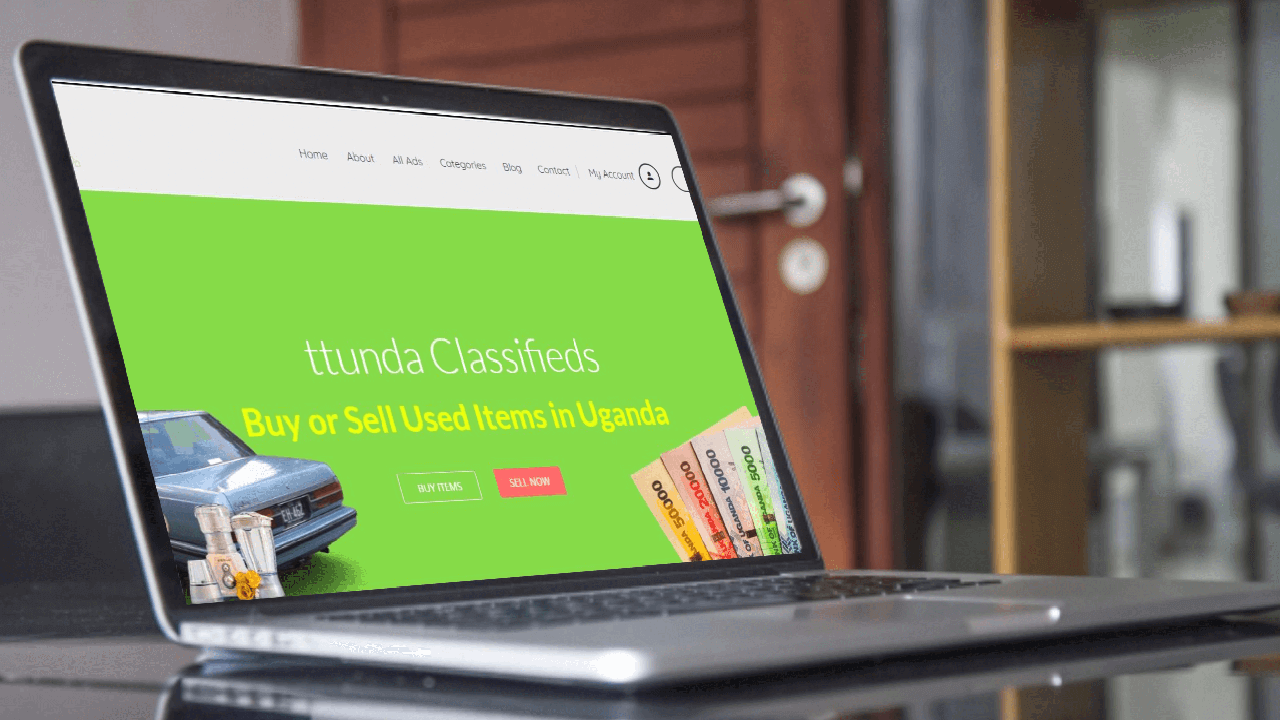 Free classifieds in Uganda are becoming commonplace for locals to stream in search of either something to buy, or finding people who could be interested in what they are selling.
Such rapid growth in classifieds advertising is creating tremendous opportunities for Ugandans who have new or used items they would want to sell online but don't have advertising funds.
Is your space filled up with items that you don't want to just give away because of their value? Now you have the opportunity to advertise them for free on Ugandan local free advertising sites.
Whatever the case, classifieds can help you sell off your items quickly. For example, wouldn't it be great if a classified ads site also advertised in your country's native language? Yes indeed and that's what this platform does! Users can post their items on our English platform and the Luganda one. This allows users to maximize the visibility for their items.
(Do you want to give it a try? simply click the "Sell Now" button on this page and start selling. If you even stick around up to the end, we have a great bonus offer just for you)
I think that's enough of our yapping and blowing our platform's whistle. Let's get back to the topic.
Ugandan classifieds advertising can help you pitch your items before fellow Ugandans in a really short time. You can exploit this power of classifieds advertising in getting your items sold without spending money in advertising fees.
Here is the latest list of 2021's free classifieds in Uganda where you can advertise your items without paying anything;
Jumia Deals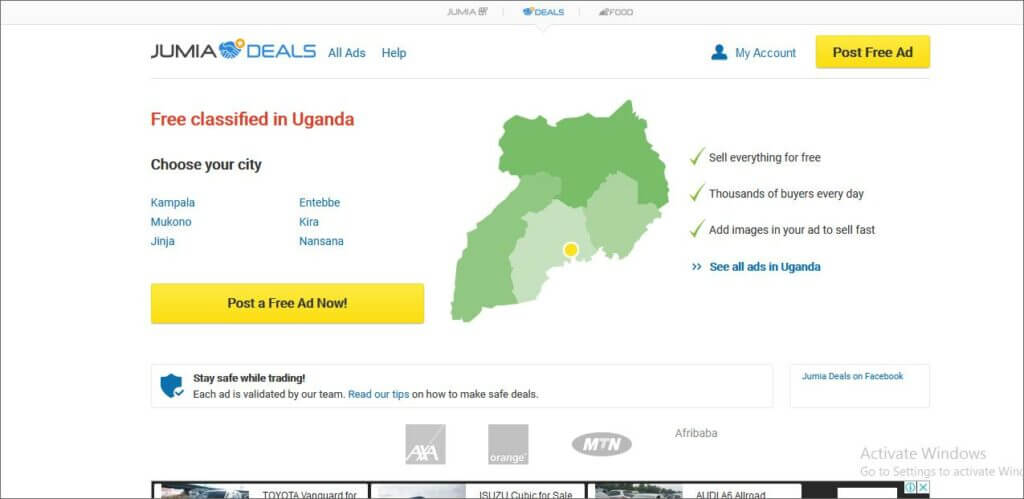 This runs under the flagship of the African eCommerce giant Jumia and at the moment it's available in Uganda and other 32 African countries. Users can post their items in any category for free! The only thing you need to do to get started is creating an account with their platform. Once that is done you can list your items on Jumia Deals.
Users can only post ads within their country of residence and there's no limit to the listings they want to post as long as they aren't identical to each other. The ads appear in a list of eight at a time and they are according to the latest post however, you can also sort ads by the cheapest price option.
Living in Kampala

This is a free online resource that is aimed at making it easy for anyone who's planning to make a move to or staying in Kampala. It teams with a range of information like guides, tourism, maps, events updates together with a free online classifieds section where you can list anything you want to pitch before Ugandan.
To list your items on this platform, you need to first create a free user account and then the website will take you to a WordPress dashboard where you can manage profile settings and your ads. You can list any number of ads as you wish for free.
They also have a paid option where you advertise your brand to their audience in a special way but of course, you have to first send them a request for such services.
Jiji.ug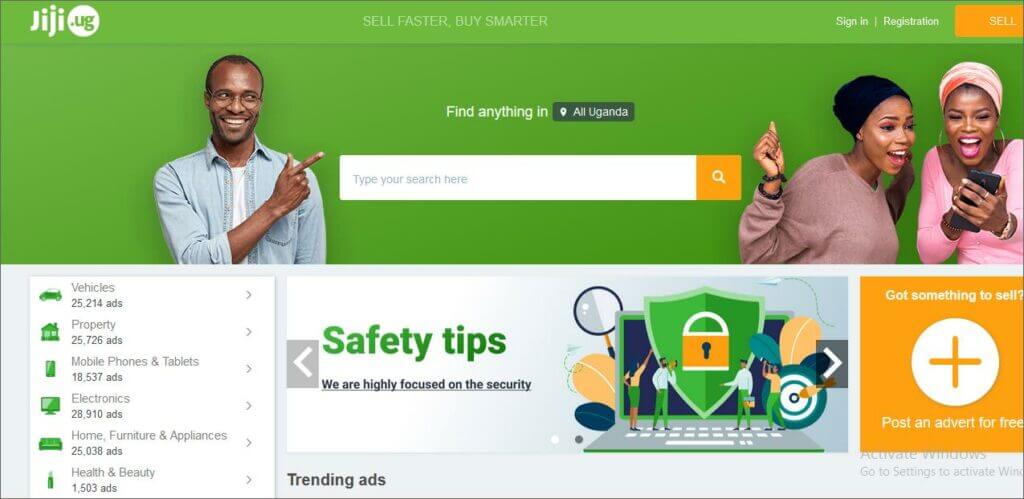 If you've been around online classifieds in Uganda then you might have ever come across OLX classified ads platform. Jiji.ug is the rebranded version of OLX. As per this post, they operate in Nigeria, Ghana, Kenya, Tanzania, and Uganda.
Users can post their ads on their websites and mobile apps for free. All you have to do is create an account with them and then you start listing your items.
There are no country restrictions which means, even if you aren't a resident in Uganda, you can still list your items on their Ugandan platform or any other Jiji platform as long as you've created an account with the country site you're interested in.
Tunda.ug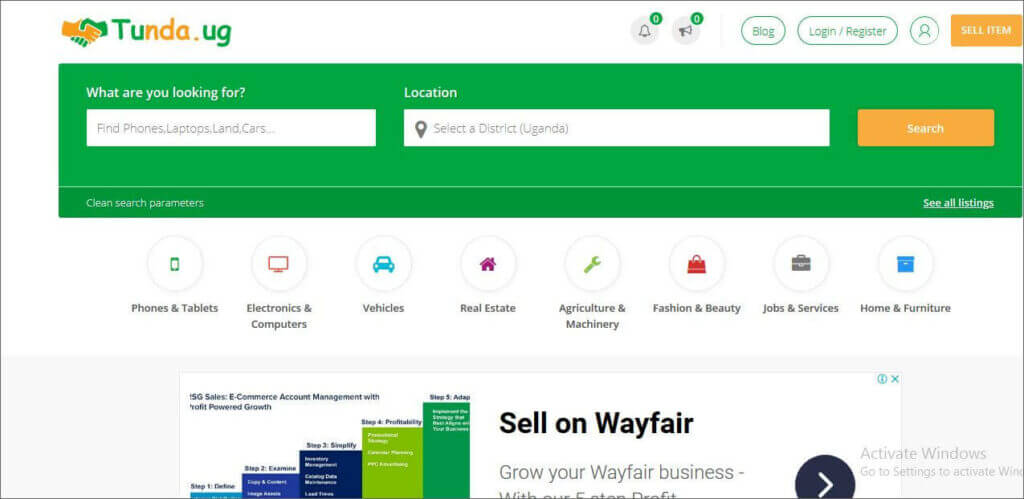 This is another online classified platform that allows its user to list whatever they want to sell for free. You can post your items in any category you're interested in. Both individuals and companies can join the platform as long as they agree to their terms and conditions.
It has several categories that you can choose from when listing your item for sale. These categories range from real estate to agricultural equipment and many other fields you would wish to advertise in.
Bizuganda.com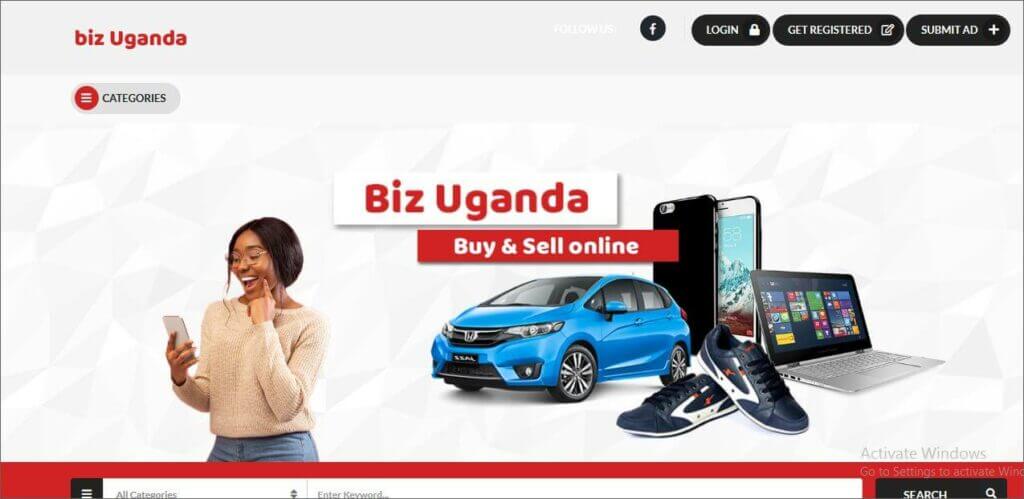 Biz Uganda platform is another free online classified ads platform that allows it's users to post their ads for free in Uganda. They also allow both individuals and companies to list whatever item they want.
One of course has to create a personal account with them and agree to their terms of service in order to list his or her item for sale. They have a range of categories that you can list your item in. Categories range from electronics to vehicles and many other fields you would want to list your item in.
Afribaba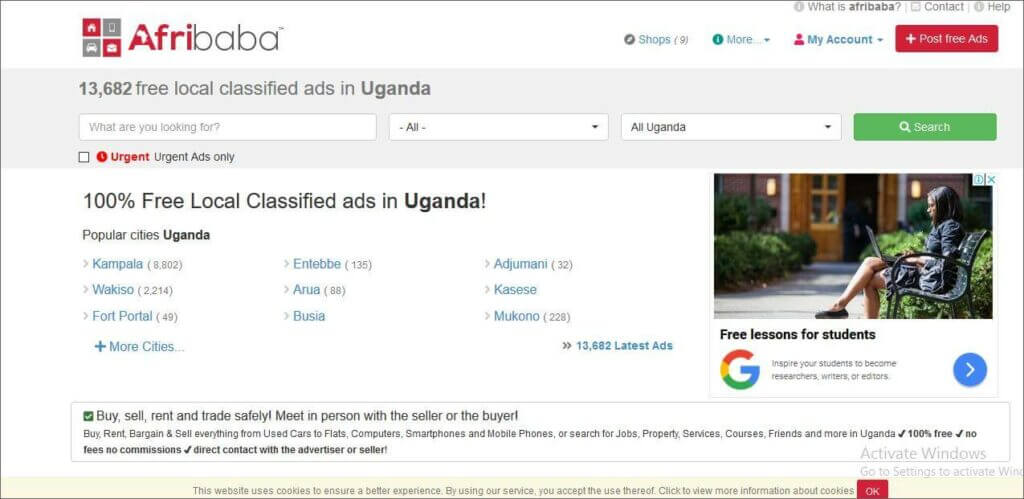 Afribaba is also another online free classified ad posting platform that allows users to post free ads in any category they wish to. It operates in 54 African countries with Uganda inclusive. Anyone can list his or her item as long as it aligns with their ad quality standards.
To post your ads on their platform, you'll be required to first sign up for a free account. Ads are listed in category format. These categories range from job listings to used items and so much more. For your ad to be more relevant, you'll need to select your city and then post in whatever category you want.
Expat.com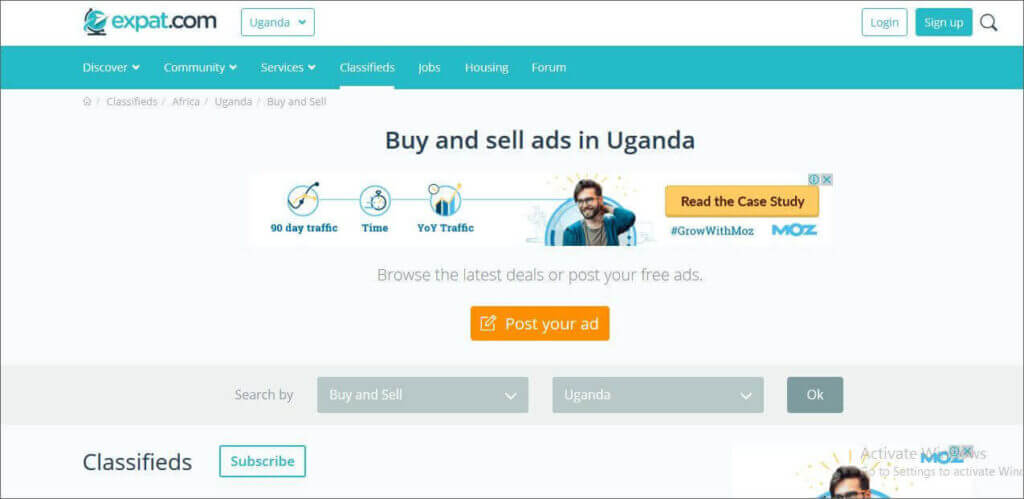 Expat is a global platform that is aimed at helping expatriates and those aspiring to join the expatriate community make the success of their projects. It's a resource site where those who want to find work overseas hang. They also have a free classifieds section where you can list any item you want to advertise.
You'll need to sign up for a free account in order to list your items in their classifieds section. There are no restrictions on the number of listings as long as they are within their terms of service.
On the homepage you'll see a range of countries that you can explore and then as you scroll towards the bottom, there's always 5 ads in a list format with the latest being on top. You can also use their search bar to narrow down what you're looking for.
Bizcommunity.ug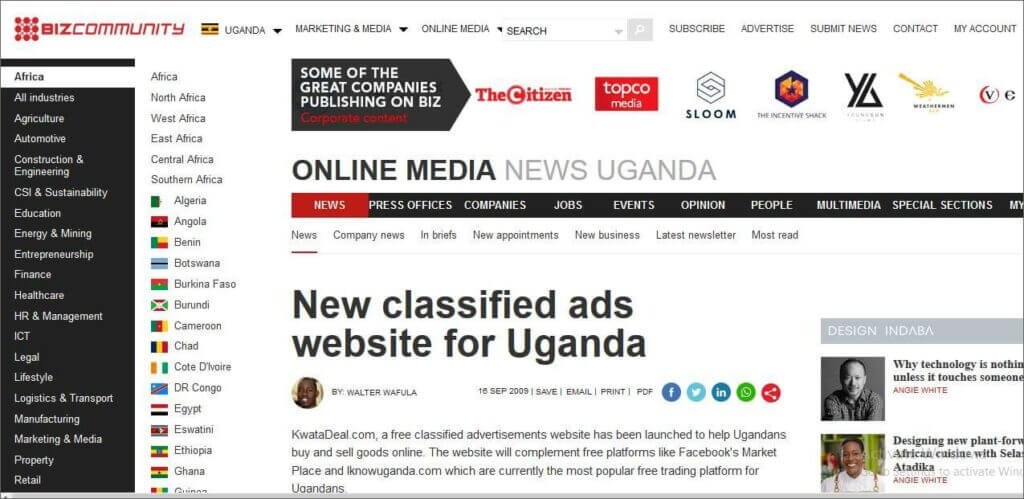 Biz community is a multi-industry online platform for B2B content concepts and digital media ideas in Africa. It covers a range of topics like education, entrepreneurship, healthcare, and much more. They also have a free classified ads section where you can list anything you want to pitch before their readership.
They have both freemium ad posting and paid advertising where you'll pay a certain amount to appear in the most prominent spots on the platform. You'll need an account in order to list your items on bizcommunity.ug
Global-free-classified-ads.com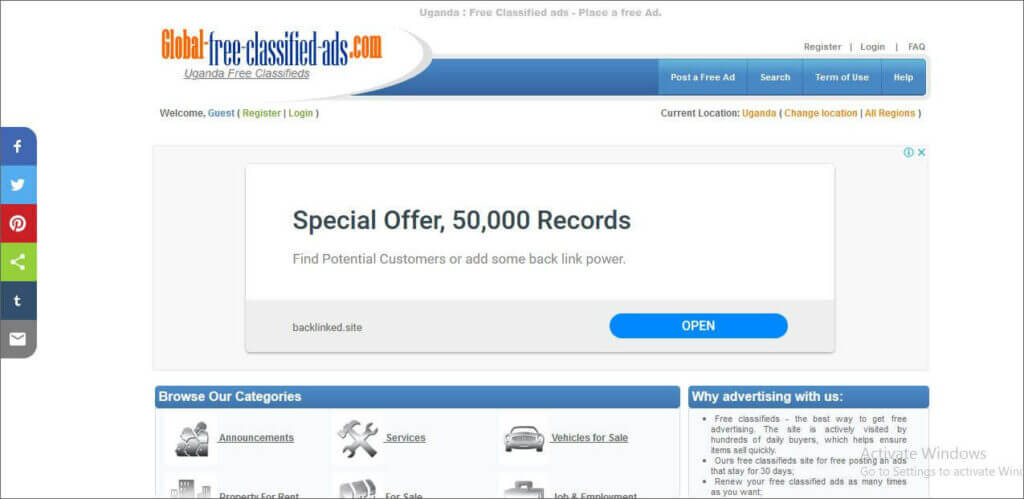 Like its name, this platform is aimed at serving all communities around the globe with local classified ads that are targeted to their localities. All you have to do is create an account and start listing ads within your country's platform domain.
Users can post their listings in any category they wish and the number of ads they can post is endless as long as they are within the platform's terms of service. The ads are in list format with the latest ad being on top by default however, you can also view ads by category, location, and most featured items.
Locanto.co.ug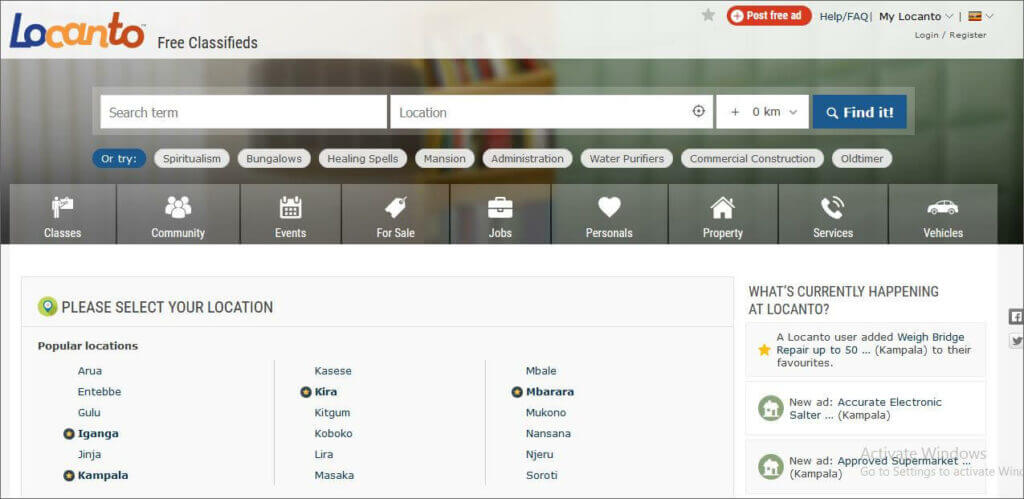 Locanto is also a global free ad posting platform that aims at allowing locals to advertise their items right within their communities. They operate in multiple countries all over the world and they also narrow down their platforms to the district level.
To post ads on Locanto, you'll need to have an account with them; Once you've done that, you're allowed to post in any category you would like for free. Listings are unlimited meaning you can post as many ads as you wish and in whatever category you're interested in.
List of Other free Classifieds in Uganda
Below is also a list of more free classified ad posting platforms that also operate in Uganda that you could also consider checking out;
Anuncioo

Uganda Adhoards

Africavenue

Adeex

UgandanClassifieds

Bambaad

Savvy-African

Ads-value
So there you are, you have the 18 free classifieds sites in Uganda at your disposal. With a variety of platforms like these, you can post your ads and get them displayed before a much wider audience than someone who has listed his or her items on just one platform.
So what do you think? Are there some free Ugandan classifieds that you have tried out and feel that we have missed them out? Let us know in the comment section below and we'll add your contribution to this list.

[maxbutton id="1″]